Floyd has been a cowboy most of his life. He and his wife, Valerie, currently run a cow calf operation on the Eastern Plains of Colorado near Kim. Floyd began writing poetry while out working his cattle in the 1980s. He would write down lines and verses about what he experienced while out in the saddle and dealing with his livestock and horses. He molded these thoughts into stories and songs when he got back to the house that evening. His poetry is about his own experiences and his observations of the western way of life.
Valerie shares the ranching chores and grandparent duties with husband Floyd. Their cattle operation in the canyons and mesas of southeast Colorado is next in line to their family as their great love. In 2015, she made a smashing debut onto the cowboy poetry scene when she won first place and a silver buckle in the Novice Division of the Western Music Association's Cowboy Poetry Jackpot. You'll likely find her photographing brandings out there. You'll see her work in "Valerie's Gallery" on Floyd's website.
The Broken Chair Band is Todd, Melinda and Dani Carter. They ride for the brand as beef producers for TM Ranches. Their music and poetry is branded 'Americowboyfolkgrass', which has delighted audiences on main stages, but is best heard around a campfire. Todd leads on acoustic bass and lead vocals, with Melinda on acoustic guitar and vocals. Daughter Dani joins the two to sing lead and harmony vocals and plays fiddle! Their latest album, "Little Victories," was released March 29, 2013, and the title song "Little Victories" has been adopted as the ranch theme.
Dale has spent most of his life on the sections of the Texas Panhandle that he calls home. He and his wife, Becki, ranch in a land that has formed the foundation for his lyrics. His songs tell tales of his childhood and the surrounding area. This singing cowboy is a mostly self-taught musician to whom Granny Burson tried her very best to teach the finer aspects of music. When you see and hear his finger picking, you'll agree that Granny did a fine job. He's at home with mandolin or guitar, solo or in a group.
Don lives in the mountains south of Alpine, TX, where he serves on the board of the Texas Cowboy Poetry Gathering. The 2014 recipient of the Heritage Award, he has performed at numerous other gatherings in Texas, Colorado, Arizona, and Canada. This is Don's first year to perform his original songs and poems, as well as some of the cowboy classics. He is also a published author with his book on the life and adventures of Apache Adams, Tied Hard and Fast--Apache Adams, Big Bend Cowboy. We welcome Don to our family of cowboy poets and pickers.
Sweet three-part harmonies and great musicianship have always been a part of the Western Music tradition. Combining the musical talents of multi-instrumentalist Jim Jones and guitarists Doug Figgs and Mariam Funke, The Cowboy Way serves up seamless harmonies and impeccable instrumentation. Jones and Figgs are both award-winning songwriters whose original songs prove that this living tradition is in good, strong hands. They write about the West not only as it was, but as it is and as it might be in the future. Their first album, "The Cowboy Way" was awarded the Western Heritage Wrangler Award- Traditional Western Album of the Year, 2017. In 2018, they were named the International Western Music Association's Group of the Year.
was almost born into the world of cowboy music. At nearly 48 hours old he attended his first concert, hidden under the CD table while mom produced the show, and both dad and grandpa were on stage. He is the six foot tall, 14 year-old son of R.W. and Lisa Hampton, both heavily involved in writing, singing and producing Cowboy Music; one of his older brothers, Colter, writes and sings; his uncle is an author and playwright; and his grandfather is a cowboy poet.
Raised on the family's horse ranch in Northern New Mexico, Calvin Danner has grown up surrounded by stories of the West, riding horses, raising cattle, and listening to some of the biggest names in Western Music singing in his living room. His first love is singing and he is a favorite at jam sessions but he is also working on song writing, learning the guitar and will be filming his first speaking role in a made for DVD Western this summer. He has already attended almost every Cowboy Poetry and Music Gathering in the country, but has recently become more of a presence on stage than behind his Dad's CD table.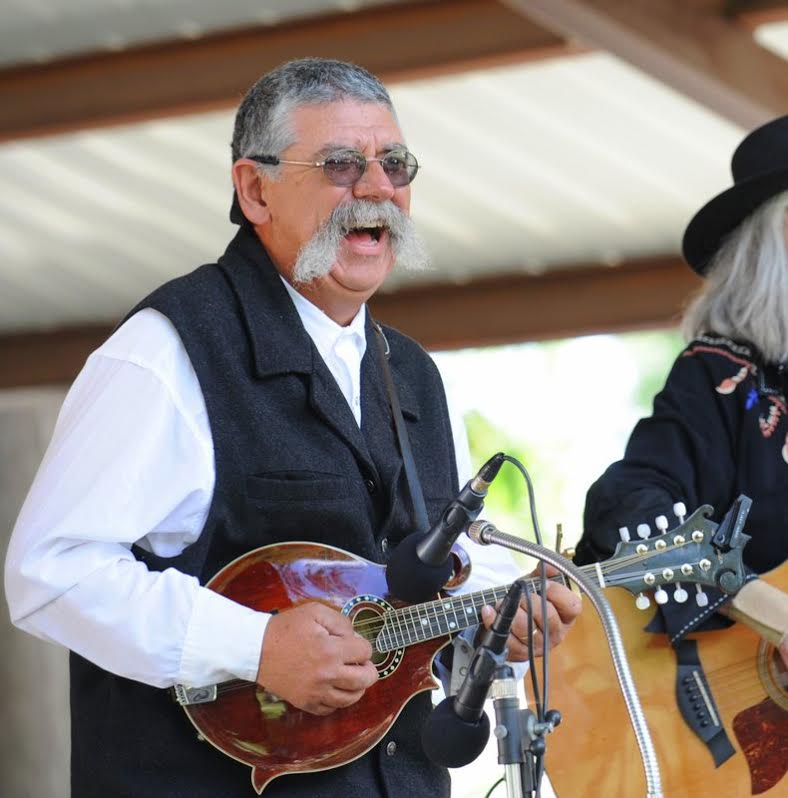 If you were to post a photo in Webster's Dictionary under the word, "cowboy," one of Randy Huston would be most appropriate. Randy's mellow voice will take you to quiet pastures and noisy branding corrals. He can stand alone in songs such as his "Cattle Rest Easy" or as an integral member of a group. You may have seen him in our banner photo wearing the red shirt and sawing on a fiddle. Randy's the kind you don't want to stop singing, and you'll see him several times this weekend. randyhuston.com
Jill was founder and lead singer of The Hays County Gals and The Lone Star Chorale, the recipient of the 2002 Academy of Western Artists Cowboy Group of the Year Award. She has appeared with Willie Nelson on TNN's "Legends of Country Music" and Ian Tyson at the Elko National Cowboy Gathering. She has also been featured on NPR's Prairie Home Companion and Texas Country Reporter. In 1994 Jill won the Western Music Association's Grand National Yodeling Championship and the 1998 Academy of Western Artists Yodeling Award.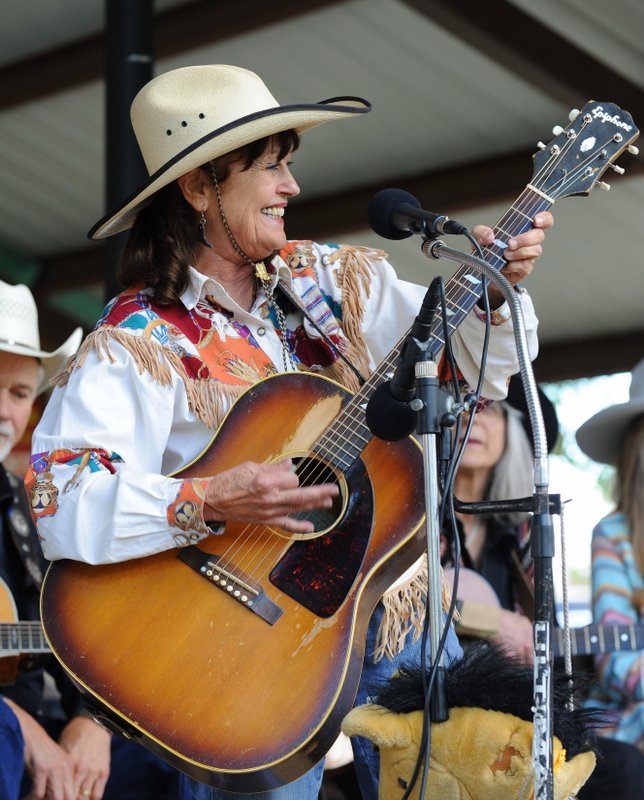 Peggy Malone first got her start Colorado's KLAK Radio station's version of the "Grand Ol' Opry," called "The Rocky Mountain Jamboree." She was nicknamed, "The Little Girl With The Big Voice." Out of 30 contestants, Peggy won the "Patsy Cline Sing Alike Contest" and had her own live bi-weekly radio show based out of Castle Rock, Colorado. In 2006, Peggy Malone was inducted into the Colorado Cowboy Country Music Association. She was nominated for "Best Female Vocalist" by the WMA and won an EMMY for Performer/Songwriter in 2001.
Deanna currently ranches in the Sacramento Mountains of southern New Mexico with her husband, Dave. She is from a long line of ranchers, people who revere the land and livestock, and love their livelihood. The stories she writes are generous slices of this life. They are tales of gritty existence, simple honest love, a code of honor still upheld, and beating overwhelming odds. They are about the people and land of today's West. Her voice of experience cannot be mistaken as you read and are drawn into her writing.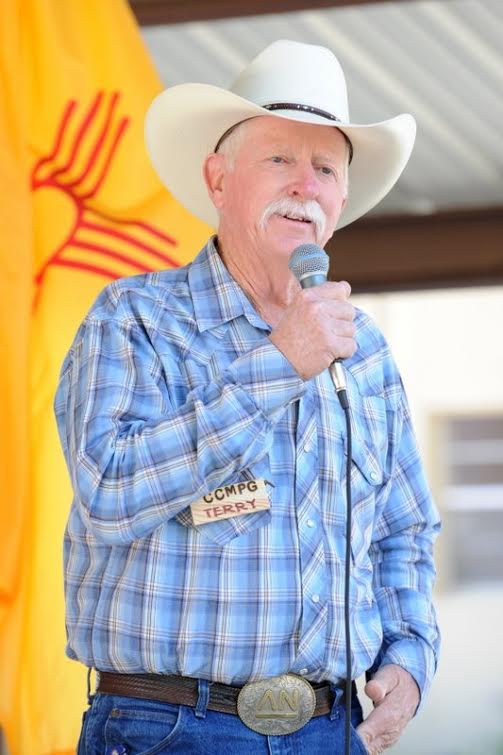 Terry has the distinct ability to put words together and deliver them in a captivating way. He's performed at just about every cowboy poetry gathering in the southern Rockies. Terry was nominated for Cowboy Poet of the Year by the Western Music Association and was selected to perform at Elko, Nevada, at the biggest cowboy poetry gathering in the country. A cattle raiser from the Grand Junction, CO, area, Terry knows what he's talking about. He lives the Western life he writes about, and he's a master at showing it to you.
Claudia's voice alone could have provided her with a successful music career, but the slash between singer/songwriter is a very thin line when describing her. After her years in the bars and riding the corn dog trail, she made the move to Nashville, and landed a job as a staff songwriter for Greenwood Music on Music Row. The job allowed her to focus on the craft of songwriting, and she learned it well. In 2011 when "Let The Storm Roll In" hit #1 on Roots Music Country Chart in July and Maverick Magazine gave it five stars in October.
Dale Page Dale worked as a horseshoer, bull rider, and vet lab assistant while majoring in English at Oklahoma State University. He writes mostly narrative poems with plots taken from personal experiences. Page was named Best Performer in 2008 at Oklahoma State's Cowboy Poetry and Songs. In 2010, he won a First Place buckle at the National Cowboy Poetry Rodeo in Montrose, CO. Dale was awarded the 2015 Cowboy Poetry CD of the Year by the Western Music Association for his collection of original poems, "Once We Were Kings."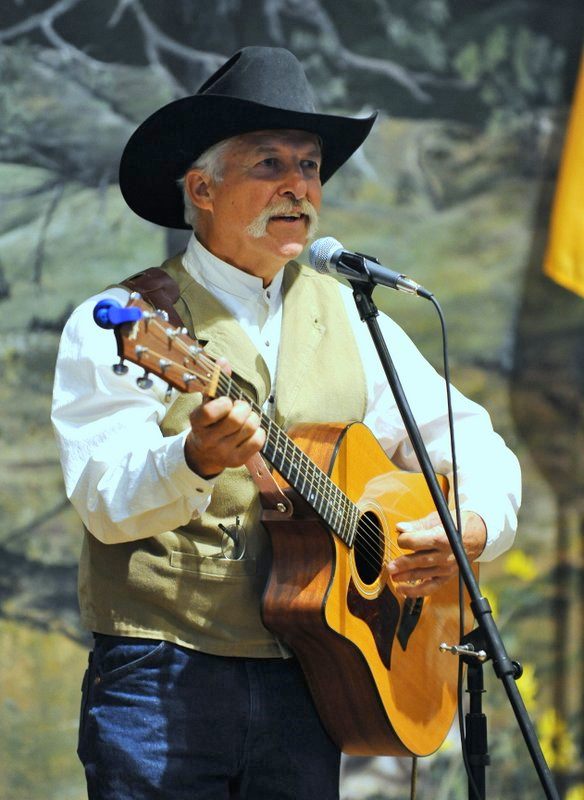 Dennis Russell shares his original poems and stories as well as some of the classics at campfires or cowboy gatherings. A local cattle rancher, his Hereford-cross cattle carry the blood of the herd at the historic Chase Ranch outside Cimarron. Dennis, who was proclaimed the First Cimarron Poet Laureate of Cimarron, won First Place and a silver buckle in the Western Music Association's 2014 Cowboy Poetry Jackpot, Novice Division. He is the founder and producer of the Cimarron Cowboy Music and Poetry Gathering.
Rocky Sullivan. The Champion Cowboy Poet from the 2015 National Cowboy Poetry Rodeo joins us as one of our Spotlight Entertainers. Rocky is a ranch manager in the Sedona, AZ, region who is looking to make New Mexico his home. In the mold of classic cowboy poets Bruce Kiskaddon and S. Omar Barker, he carries on the traditions of storytelling and keeping the cowboy alive. With the camaraderie and fellowship of like-minded folks, Rocky brings his tales of the West to audiences across the Southern Rockies.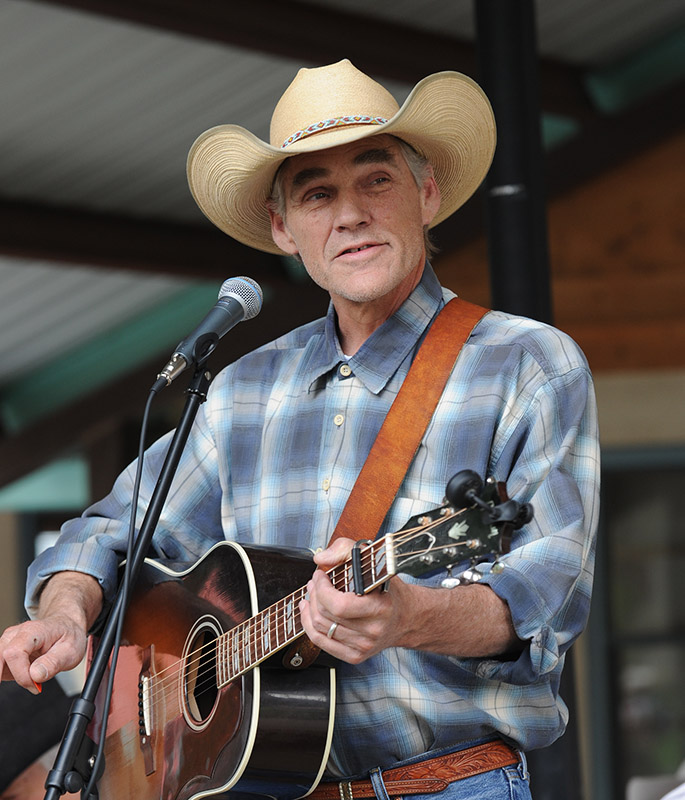 Rod Taylor cowboys at the Philmont Scout Ranch south of Cimarron. He's a seasoned hand who has worked cattle on several big ranches but has put down roots here. This prolific songwriter has several CD's to his credit and sings with a local band who call themselves The Rifters. Shut your eyes and be taken back with Rod as he sings about the life of the American cowboy. His baritone voice is just right for the stories he tells of the horses and men of the West in his songs. His newest album, "Here, There, or Anywhere," is a must-have CD for enjoying real cowboy music.
Barry Ward grew up on the western plains of Kansas. His original songs deal with his experiences as a cowboy and farmer. Add to that a strong faith in Jesus Christ, a love for his country and our Veterans, and you've got a guy who's overflowing with credibility. His song "Harvest in the Fall" concludes the documentary "The Great American Wheat Harvest" and his voice is included in the soundtrack for the film "Home on the Range". In 2003 he was honored to be included in a small handful of Western singers to perform at Carnegie Hall with the Great American Cowboy in Concert. Barry's accolades include:
• 2018 Classic Cowboy Music CD of the Year, Rural Roots Music Commission
• 2017 CD of the Year, Rural Roots Music Commission
• 2015 Western CD of the Year, Rural Roots Music Commission
• 2014 Kansas Cowboy Hall of Fame Inductee, Cowboy Artist/Entertainer
• 2014 Western CD of the Year, Rural Roots Music Commission
• 2014 Male Vocalist of the Year, Academy of Western Artists